Bosch Ceiling Speakers LBD8353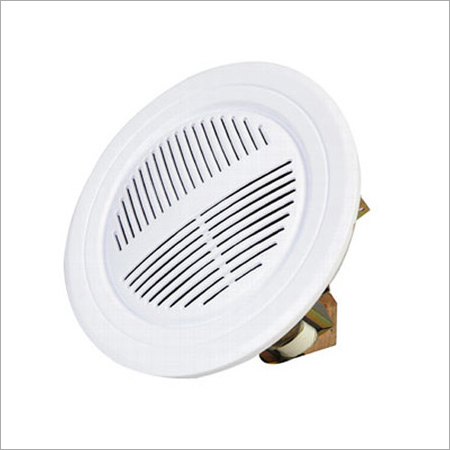 Bosch Ceiling Speakers LBD8353
Price And Quantity
Product Specifications
150 Hz - 15 KHz Hertz (HZ)

1667 Ohm (ohm)
100 Hz - 8 KHz Hertz (HZ)

6 Watt (w)
Product Description
Owing to our years of experienced and vast knowledge, we are highly engaged in offering an excellent quality of Bosch Plastic Grill Ceiling Speakers that is available in varied specifications as per the accordance of our clients. It has 100 V Voltage and 6 Watt Power. The offered ceiling speaker is checked on rigorous quality parameters before final delivery to ensure its precise work. This speaker is known for its sturdy construction and remarkable quality. Also, our customers can avail these speakers at reasonable rates.
Bosch Plastic Grill Ceiling Speakers Features:
Contemporary design
Compact size
Excellent frequency response
Frequently Asked Questions:
1. What are ceiling speakers good for?
Ans: Despite their relatively small size, ceiling speakers can transmit beautifully detailed music from above and even help enhance the surround sound of your speakers. Even theaters use them to add to the surround sound experience, so why not add a couple to your home.
2. Where is the best place for ceiling speakers?
Ans: Where do Ceiling Speakers need to be positioned? If you are installing a single stereo speaker you should aim to place it in the centre of the ceiling (if possible) for the best distribution of sound.
3. Do in-ceiling speakers need power?
Ans: Do ceiling speakers need mains power? No, ceiling speakers are usually passive speakers which mean they do not have built-in amplifiers, and instead receive their power via speaker cable that is run from an external amplifier. This is achieved by wiring each ceiling speaker up to the binding posts on the Amp.
4. Can I use ceiling speakers for surround?
Ans: Are In-Ceiling Speakers Good for Surround Sound? We're glad you asked. The answer is, Yes of course. Simply point your in-ceiling stereo speakers where you want to create that immersive extra layer of sound and then configure your system.
5. Do ceiling speakers add value?
Ans: A discreet, easy to use ceiling speaker system in the kitchen is certainly not going to hurt things when it comes to selling up. If done correctly it adds a discreet level of luxury admired by most and may just help you generate more interest in your property.
6. Do ceiling speakers need an enclosure?
Ans: So do in-ceiling speakers need a backbox? Yes. Failure to install a back box for your in-ceiling speakers will dilute the sound quality and lead to noise pollution in other areas of your home.
7. How far should speakers be from ceiling?
Ans: We recommend installing in-wall and ceiling speakers at least 18-24 inches away from an adjacent wall or ceiling.
8. Can you use ceiling speakers outside?
Ans: While you can use indoor speakers outside, they can be damaged by the weather more easily than hardware designed for outdoor use. If you are using indoor speakers outside, be sure to bring them inside when not in use.